Waking up to read the news this morning, and seeing "Oahu home prices reach $700K," either did one of two things: made you really happy, or really scared! Either way, I recommend tempering your emotions and here's why…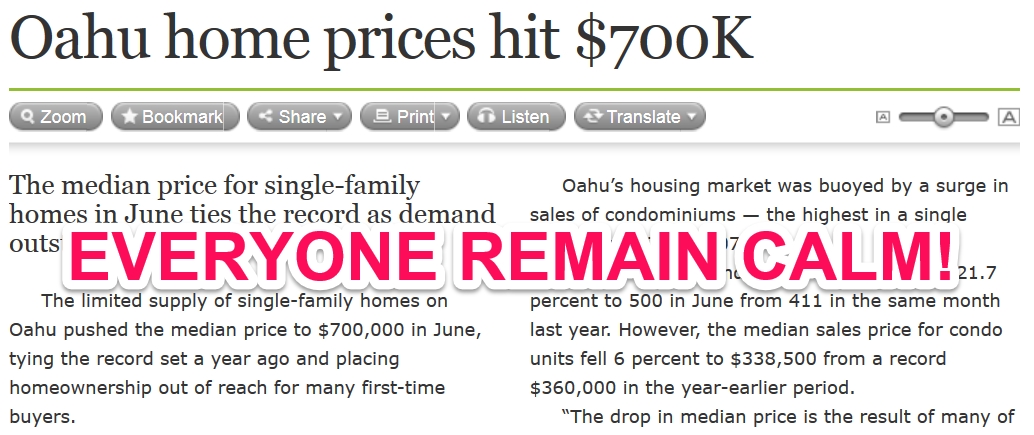 First of all, the median price for O'ahu single family homes did hit $700,000. The Star-Advertiser did not lie about that. However, if you look at the numbers, that's only a $2,000 (0.3%) jump from last month, and exactly the same as June 2014. $700K is a nice number to put in a headline (especially in big, looming letters), but don't be fooled by exaggeration.
So what do the numbers actually say? Last month, it seems that more lower-priced condos sold, dragging the median condo price down 9.7%. This might be triggered by all the new condos closing in Kakaako, which some people might be upgrading to. There was also a good-sized jump in the number of condos sold, another sign that people are upgrading.
For single-family homes (SFH), there was a slight uptick in median price, like the paper said, but there was also an almost 5% increase in number of units sold. Ask yourself, if everyone was freaking out about the high prices, wouldn't it show a decrease in sales?
Overall, from an agent's perspective, the summer heat is translating to the marketplace. While buyers seem to be a little more picky in what they choose, there is still a lot of people looking for places to purchase with low inventory to choose from. If you would like to talk about your real estate goals, or just want to talk story, don't hesitate to give me a call!
-Nick