Here are my opinions on the O'ahu real estate market after October and finishing up the third quarter of 2023
They say time flies when you're having fun, so that must mean I'm having tons of fun this year! I can't believe it's already November and we're on our way to Thanksgiving & Christmas. Whether you're on-island or away, I wish you nothing but a safe and happy start to the holiday season and look forward to another great year in 2024! Here's my thoughts on the market for September 2023 and the third quarter overall.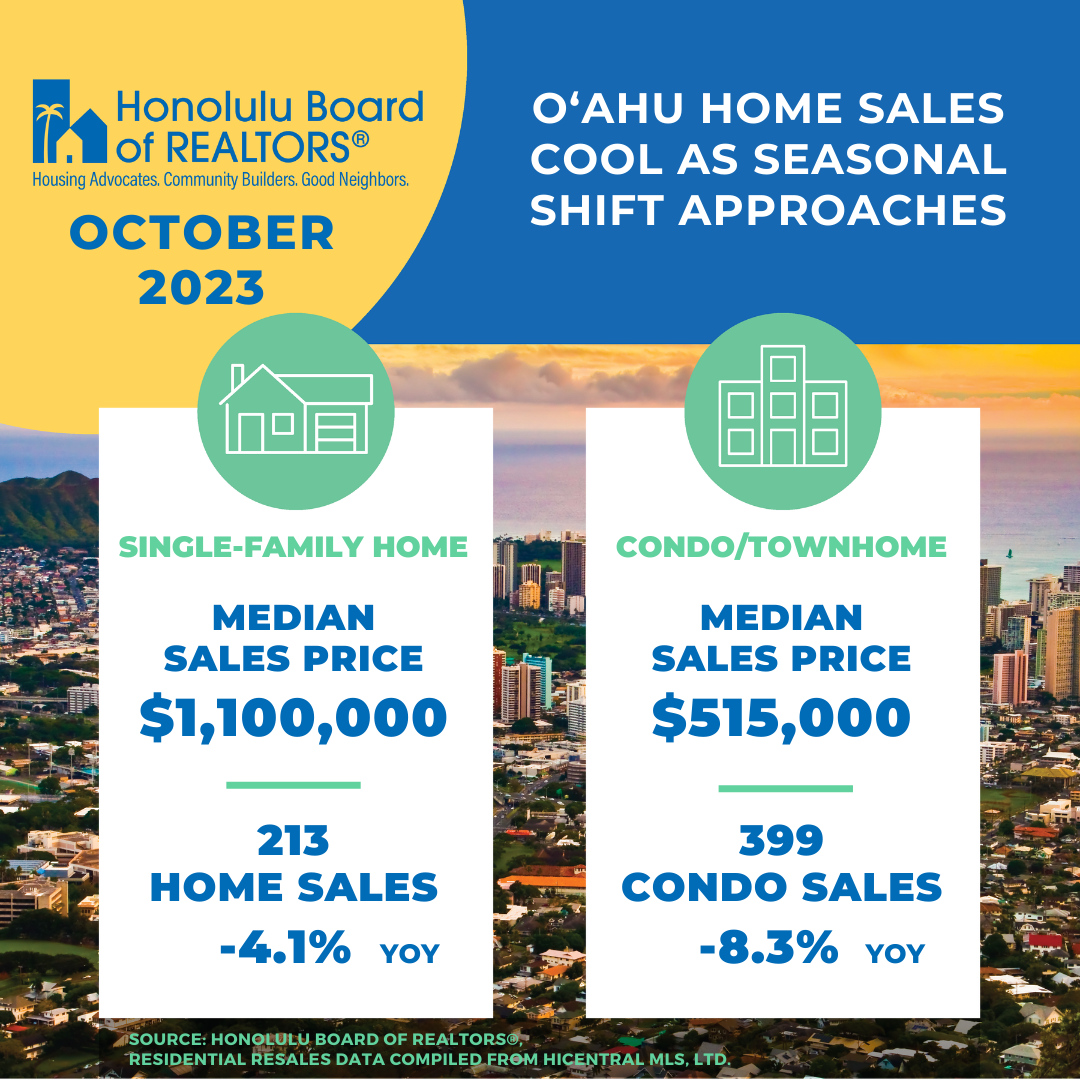 Q3 2023 Summary & Opinion
Overall in the third quarter of 2023, we saw some interesting trends emerge as the year-over-year changes shrunk compared to the same periods in 2022. In the beginning of 2022, we were still experiencing crazy-low interest rates while home prices continued their pandemic pace. About that same time, as inflation became rampant, the fed started raising their interest rate in hopes of cooling spending in the economy. Over the past 12 months, it seems we're finally starting to see some of that as mortgage rates hover above 7%.
From a statistical standpoint, comparing the the start of 2022 to the start of 2023 was sensational as the number of home sales dropped significantly under the different market conditions. Comparing the white-hot start of 2022 with the higher interest rates starting 2023, it was easy to see why those numbers were so different between each year. As the interest rate hikes started in mid-2022 though, we saw a quieter market for the second-half of 2022, so the comparisons to a similar second-half of 2023 were more moderate. The third quarter did see some of those year-over-year gaps shrink but not in median price. Instead, that important stat has seemed to hover in-place as Sellers hold firm amid low inventory.
As we move into the end of 2023, I would expect this to remain the same as there is no sign of inventory numbers picking up. We may see a slight drop in the median price of condos due to several external factors, but overall, I'd still expect to see similar stats moving forward.
October 2023 Stats & Opinion
On a smaller level, October showed some promising numbers over 2022 that support some of things mentioned above. First, the median price for single-family homes was up 4.8% over the same month last year, but has bounced around the same price throughout the year. Home prices seem to have plateaued, especially versus the gains we saw during the pandemic, and that's due to both a tighter inventory for Seller's and higher interest rates for Buyer's. On the condo side, it dropped 1.0%, not much of a change and both still near their all-time highs.
The most interesting stat for October 2023 is the year-over-year changes in closed sales on both sides. Versus the same month last year, the number of closed single-family homes is only down 4.1% and condos is down 8.3%. This is a big difference from the start of the year, where we were seeing 40% differences and proves the market changes that were happening overall in Q3. They are still super tight numbers with only 213 sold homes and 399 condos in October, but overall sentiment seems to be calming as both sides of our industry get used to these tighter markets.
It's beginning to look a lot like the holidays
With November in full swing and the holidays ramping up, I can't help but assume that we will finish out the year with the same moderate changes we've seen all year. Prices will hover around $1.1M and $500K, closed sales will be lower than 2022, and interest rates will hover as consumer holiday spending ramps up. It will be interesting to see how the economy reacts to prices during the spending season, and hopefully it will lead to more opportunities for real estate equity in 2024!
Whatever the case, I will be watching it all! I hope you have a good holiday season, and let me know if you ever need anything from me!
-Nick