Welcome to 2021!
After a brief break from newsletter-ing at the start of the year, I'm back! I've been busy helping my clients buy and sell their homes in this crazy market and I'm excited to share some statistics and my observations. Hope you are all doing well and ready to dive back into Hawaii Real Estate news!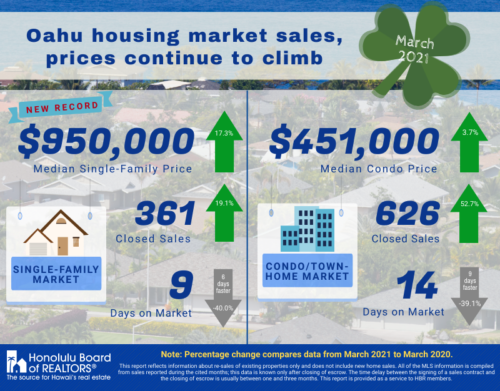 April Showers Continue to Make it Rain for Single Family Homes
There has definitely been more activity this year compared to this time last year when full lockdown was just beginning. March marked an unsurprising, yet still shocking new median price for a Single Family Home at $950,000. This is up 17% from March 2020 and up over 17% year-to-date and while Sellers are enjoying the benefits, Buyers are left chasing the rising market. On average, Buyers are paying 100.4% of the original asking price, which means over bidding is a prevalent strategy and this is the first time I've seen that number jump over the 100% threshold. Inventory is down 40% from March 2020 and combined with the low interest rates both are contributing to the rise in median prices. If you are a Buyer, however, do not despair! New inventory is creeping up slightly this month versus last year, so hopefully that trend continues.
Spring Condo Sales Spring Ahead
The number of Condo sales is up over 50% from March 2020 with a jump from 400 – 600! However, this is up only 20% from two years ago, so the number of sales is a good sign the condo market is back up and running after a slower 2020. In March of last year, we were heading into full lockdown for the first time and people were feeling unsure about living in a building with shared amenities like elevators, etc., but now it looks like people are feeling more confident and comfortable. Median Condo prices are up 3.7% from March 2020 and up 6% year-to-date. Under normal conditions, this rise would be impressive, but this year it is overshadowed by their Single Family Home counterparts. Inventory is down 17.3% from March 2020, so that rise will likely continue through the summer as inventory continues to thin. Almost 1,000 Condos went into Escrow last month and with the average days on market at just 14, we may see a larger decline when April is over.
In the News
Even Tighter Inventory?
The DPP is considering new short-term rental permits, which is interesting timing in this current market as many believe this leads to further tightening of current inventory. This will be especially felt in popular tourist areas like Waikiki and Kailua. https://www.staradvertiser.com/2021/04/07/hawaii-news/public-reviews-proposed-rules-for-short-term-rentals/
Affordable Housing could bring Bigger Buildings
In Kakaako, Kamehameha Schools is proposing adding more affordable housing inventory by building larger than ever buildings. The trade off for adding much needed inventory in a highly-desirable area would be setting a precedent for taller, bulkier buildings than Honolulu has seen before. https://www.staradvertiser.com/2021/04/08/hawaii-news/kamehameha-schools-wants-kakaako-changes/
Interested in living at The Park?
Howard Hughes is set to start releasing their latest development, "The Park," so named for it's location neighboring their new park, in the old Tropic Fish and Vegetable warehouse spot. If you're interested, let me know: https://www.wardvillage.com/
Final Thoughts
This is certainly a Seller's market and this is especially the time to sell more challenging properties as Buyers are snapping up all kinds of homes at a premium due to the shortage. Currently, Single Family Homes are on the market for a mere 9 days. Is this sustainable? I think that as long as people are willing to pay, there is no end in sight so if you're thinking about buying or selling, let's have a conversation. I have had clients on both sides of the spectrum and I can share their experiences as well as give you a realistic idea of what you can expect to be dealing with. Let's talk soon.
Aloha, Nick