It's spring! These April showers are late!
It's been weird weather this year right? Seems the rains we've been experiencing over the past couple weeks have showed a little late this year, as I'm used to May being the beginning of the hot summer months! All signs seem to be showing a drier year overall for the island, so remember to conserve water this summer and check out the Board of Water Supply's website for tips on how to do that! We all need to do our part to conserve this year, especially with the Red Hill wells closed.
April shows some relief as pricing softens slightly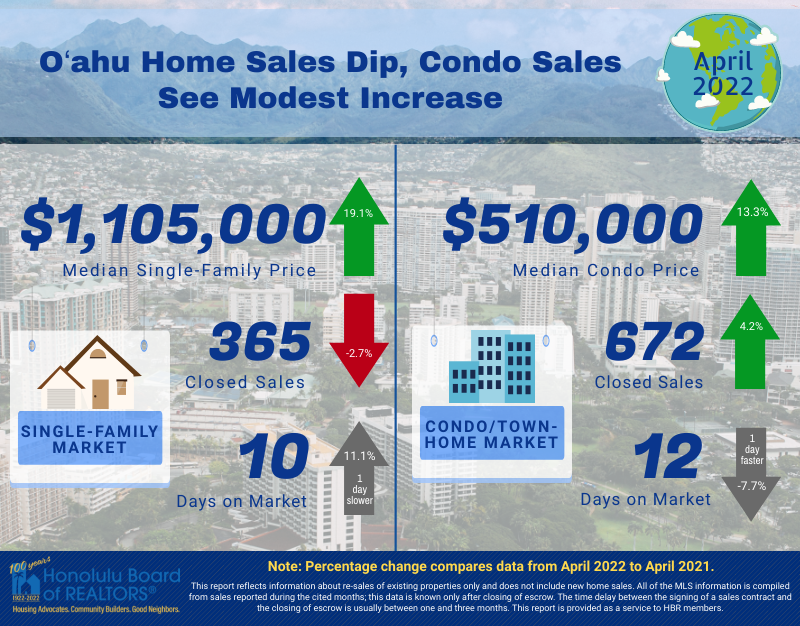 As I always say, one month of stats is not something to set your expectations to, but seeing the median price for single-family homes drop from last month is a welcome sign for buyers. Traditionally, April has see increases in that median price as more buyers enter the market for the summer push, but one soft month does not mean lower prices will be a trend. Condos, on the other hand, are up again as higher home prices and higher interest rates push buyers out of that market and into the condo market. Expect to see trend continue as the year continues.
Fed tries to slow inflation
In a move triggered by high inflation, the Fed announced a half-percent increase to their short-term rate. From a real estate standpoint, that basically means buyers will start to experience higher mortgage rates from their lenders and less buying power. These kinds of moves don't necessarily show immediate returns, but with more rate hikes expected throughout the rest of the year, expect buyers to start to consider lower-priced options or leave the market all together.
Sea level rise disclosure goes into effect
This month marks a big update to our disclosure, requiring sellers to disclose if their property is within the rising boundary of expected sea-level rise. Civil Beat does a good job of breaking down the new requirement, and it will give buyers good information to decide if they want to be in the expected danger zone.
Hurricane prep week is almost over
Man, this month's newsletter is just full of cheery news, right?! Sarcasm aside, it is almost the end of Hurricane Preparedness Week, as our season is expected to start in a few weeks. Make sure to hear over to NOAA's preparedness website for more information and tips to help you get ready! The worst thing in any disaster is being unprepared!
End of Q1 2022!
All in all, it's been a VERY eventful first quarter of 2022 and I hope this post finds you safe and healthy! In spite of our world still affected by the on-going pandemic, I see a lot of encouraging signs that life is coming back! For the first time since the start of the pandemic, I performed in a live ImprovHI comedy show a couple weeks ago, and was really happy to be back on stage for one of my favorite hobbies! Let's hope we continue to see declining numbers so we can get back to a full social calendar again soon!
Take care, and see you next month!
Nick