August Tempers Late Summer Price Push
Hi Everyone, hope you are finding awesome ways to beat the heat! It seems like everyday I look at the weather report and it says "feels like 90+." Luckily, we've seen sprinkles of showers here and there, so maybe the real estate market is mirroring the temperate weather we are experiencing too! Here's a breakdown of the numbers, and some key points I'm watching as we move along the second half of 2019.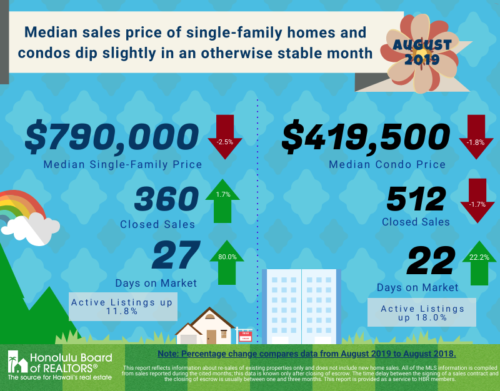 Median prices take a step back in August
As expected, August saw a small percentage drop in median price versus 2018. The median price for single-family homes dropped 2.5%, while condos dropped 1.8%. The year continues the to trend around even, with some months (like July) positive, and some months (like this one) negative. I still expect to see this trend continue, but am eager to see what changes will come with the recent fed rate drop.
Fed rate drop not yet effective
At the end of July, the fed also announced an unusual drop in its short-term interest rate despite a growing economy. This was a move that they said would be a preventative measure against shrinkage in the economy, and one we were hoping would spur closings over the end of the year.
So far, it seems that the rate drop has not affected buyer's motivations as closed sales barely showed any change versus 2018. Closed sales on single-family homes was up 1.7% and down 1.7% on condos. Would these numbers have been worse if the fed did not drop the rates? I don't know. We'll just have to wait and see how the market reacts to this lowered-rate as the rest of the year continues.
Good to see days on market and active listings still on the rise
Days on market for single family homes rose 80% versus 2018 and active listings are up 11.8%. For condos, days on market are up 22.2%, while active listings are up 18%. Both trends are good to see in the market as balance is achieved between Buyers and Sellers. Keep an eye on this throughout the end of the year as a sign of things to look forward to in 2020!