This year is already/finally reaching its end
Welp. We made it to the 4th quarter of 2020! Whatever your circumstances are, congratulations for making it this far. As we head into the holidays, let's take a look at the current real estate market on Oʻahu…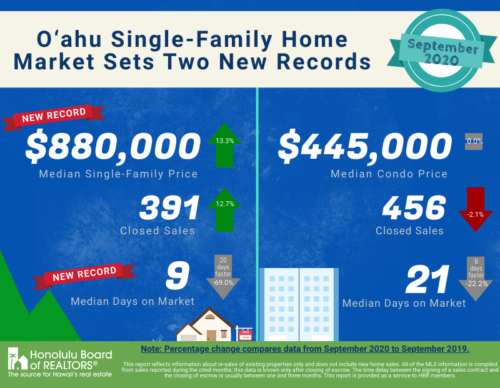 Behold the Power of Interest Rates as Single-Family Homes Reach another Record-High in Median Price
The median price for single-family homes has reached a new record of $880,000 – higher than any time in the history of the MLS! This marks the third straight month in a row that number has increased, jumping up 13.3% higher than this time last year and 5% higher than at any point last year. The second wave of lockdowns and a desire for private outdoor space and more room for indoor activities continues to contribute to the popularity of single-family homes. Even with the local unemployment rate spiking at over 20% earlier this year, it looks like competitive interest rates have kept the single-family home market growing quickly and consistently. Interestingly, it is important to keep in mind that September 2019 was one of the lower points in median prices last year, so this 13.3% jump is relative and median condo prices have stayed flat.
No time for hemming and hawing…
September also reveals another record-breaking jump in the number of days a house is on the market. During the housing boom last year, I remember a few times we were shocked to see the number of days from when a house became available to the time it went into escrow dip below 20 days. Now, the average is 9 days! One reason for this could be that the pandemic mandates all buyers to be pre-qualified before showing, which allows the process to go much more quickly. Whatever the case may be, Iʻm recommending all my buyers be pre-qualified or they could find themselves falling behind their competition and losing out on getting the home they want.
Is all this growth sustainable?
Both buyers and sellers are wondering about sustainability right now. Condo sales are holding steady as prices and closed sales numbers hover near 0. Single-family homes are in such high demand currently, but we live on an island and space will always be a challenge. We can only build so many homes and not everyone can have a piece of land of their own. Traditionally, history has shown us that prices increase over time, so we should all prepare for another double-digit increase year-over-year. But will median single-family home prices hit $900K? This is a question I canʻt answer, but time will certainly tell, so stay tuned!
Aloha, Nick