Hi Everyone, hope your summer is going well and you're finding ways to deal with the heat! My wife and I have spent hours building all kinds of creative fan mounts to maximize the airflow in our house, so but that wasn't enough to cool off a hot month in the market. July exceeded all my expectations, so let's jump into the numbers and see what insight we can determine.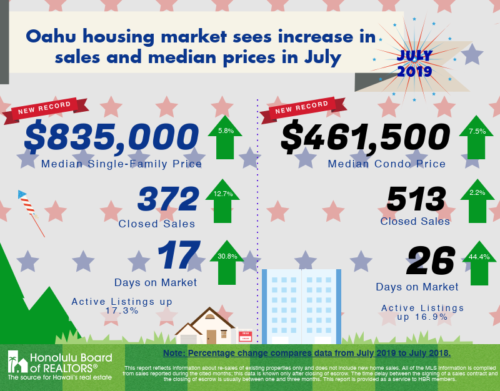 I was wrong…ish
Like I mentioned above, July exceeded my expectations for what I expected to be a bumpy summer. One month's statistics does not summarize an entire summer, so we'll see if the hot numbers can continue through the rest of the year. Active listings are still up around 17% versus 2018, so prices are rising while inventory is growing. That's a great sign for both sides of the deal, and a much healthier market than 2018.
I can't believe this happened before the Fed dropped rates
Last week, the Federal Reserve dropped its benchmark interest rate for the first time since the Great Recession in 2008. Growing tensions with China and slower wage growth were cited as reasons for the cut, but it's an interesting move by "The Fed" to prevent our economy from slowing down, despite signs that it's still growing. Typically, this would take a little while to trickle down to mortgage lenders and spur homebuyers to act on the lower rates. However, our stats are from the entire month of July and the Fed didn't cut rates till July 31st! Local homebuyers were already motivated by lower interest rates, so it will be interesting to see what the Fed cut means for September and October.
The only down number is percent to original price
Numbers across the board are up, except one. Inventory is growing, median price is up, and number of sales is up, but percent to original price is down at 96%. That points to slight price gauging by Sellers looking to maximize their return, and probably points to a fluke month of numbers. If median prices continue to climb, but the percent-to-original-price number keeps falling then we should see more inventory on the market for the rest of the year.