December stats show…wait, it's April, right?!
Hi Everyone, hope your dealing with quarantine safely and happily! There was an obvious affect on the local real estate market, but not the effect that some were thinking! Let's look at the stats from April and see what kind of market we had while under quarantine…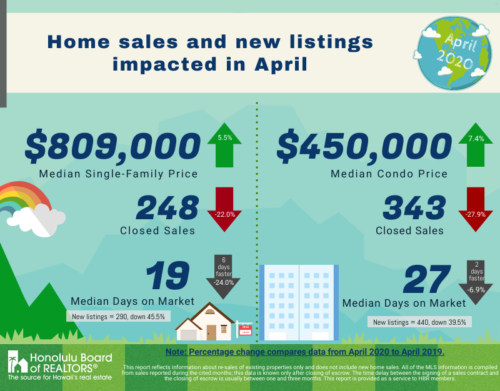 Riddle me this Batman…what do you call a market that has less buyers and less sellers?
Holiday market! That's right, this quarantine market has the feel of December rather than April. Less buyers buying, less sellers selling is usually a sign that people are distracted with other responsibilities. In December, we usually see this because everyone is busy with the holidays. In our case, everyone is obviously busy under quarantine. I guess we should feel luckily that it doesn't have the recession feel some were worried would come.
How come median prices jump up for both single-family homes and condos?
Prior to the pandemic, our market was suffering from tight inventory, causing demand to outweigh supply. Looking at the stats again, there were almost 50% less new homes on the market in April, and almost 40% less condos versus last year. So even though most buyers were stuck at home, sellers also seem to be holding off on listing their homes. The ratio of available homes to buyers hasn't changed, thus the demand hasn't changed either.
So what does that mean for the market moving forward?
Obviously I can't tell the future, but I can see some interesting trends in the quarantine market that you might be able to take advantage of. For buyers, right now there are two types of sellers: those that are fine waiting this quarantine out and those that are extra motivated to sell. If you're a buyer, there definitely are some good opportunities to work with these motivated sellers and purchase homes in your favor. I've seen some buyer-favorable deals get accepted, but don't think it's like that across the board.
For sellers, you have the opportunity to list your home in an even more captivated market. Yes, there are were less buyers buying homes in April, but the rising median price proves that there are motivated buyers still out there. Be extra conscious of factors like pricing and marketing, and you might be surprised what kind of reaction you'll get in the pandemic market.
All in all, we need to take any real estate investment decision month by month. In January, we thought the market was plateauing. In February, we thought 2020 was going to be on fire. In March, we thought that the virus wouldn't be too bad. And in April, we thought the market was going to collapse. Now is the time to make smart, calculated decisions in a lot of different areas of your life. Let me know if real estate is one of those!
Aloha, Nick