It's the most wonderful time of the year!
If you're already sick of Christmas music, you may also be sick of hearing the same real estate news from me. November 2020 followed the same trends we've seen over the past several months with no indications of slowing down or changing course. Limited inventory spurred on higher home prices while maintaining condo prices, which is what we have been seeing for a while now. No need to be a Grinch about it though, let's take a closer look at the details, shall we?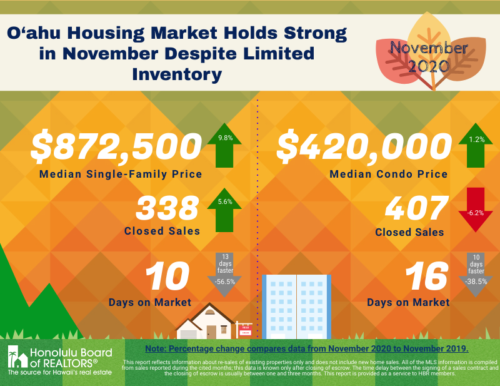 Hana hou, same song for Single-Family Home Sales
Compared to single-family home sales in November 2019, the median price is up 4.7% and the number of homes sold is up 5.6%. The only thing not on the rise is inventory, which was down by 34%. Overall, 2020 is only trailing 2019 in single-family home sales by 0.7% illustrating that the market is catching up after the small break we had at the beginning of the pandemic.  
Condo Sales not invited to join in any Reindeer Games
Condo Sales are down 6.2% from November 2019 and down even more significantly year to date at a dismal -15.8%. Condo prices, however, are actually up 1.2% vs. 2019 year-over-year, but we're assuming this is due to the fact that townhomes are included in this group, which are very desirable and sought-after in Covid times. With these numbers it is clear to see the market's preference for homes and townhomes over condo buildings, which seems to be a direct response to our new pandemic lifestyle.
I'll be home for Christmas
And so should you! With everyone hunkered down for the holidays, not traveling, and with no social obligations to attend, buyers will have more time than ever to do what they do best – buy! I'm not expecting any "holiday slowdown" like we usually experience around this time of year, but 2020 has been full of surprises, so who knows?? As we wrap up this wild ride of a year, I wish the best for you and your family and look forward to seeing you all for more fun and adventures in real estate in 2021!
Aloha, Nick