With Halloween under our belts, was the month as SPOOOOKY as it seemed?
Hi Everyone, hope your Halloween was a smash hit! We all gathered in Manoa for another busy Halloween night, and it was crazy how many people showed up! Hopefully that means overall spirits are high, and people are gearing up for a good holiday season. Let's see what the stats have to show us…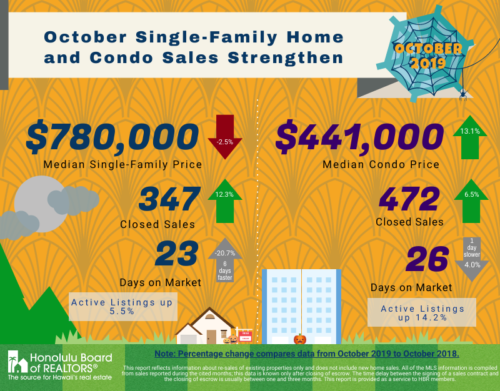 Closed sales up for both single-family homes and condos
Typically in October, we start to see some slow down in the market as people gear up for the holidays and concentrate on other important events. It looks like that trend is going to start a little later this year as both single-family homes and condos had good jumps in closings during the month. We've been seeing higher inventories up the entire year, so one month of good closings won't make too much of a difference, but it will be interesting to see if November continues that trend.
Median prices for condos jump 13.1%, while homes drop 2.5%
With active listings up 2.5% and days on market up 12.3%, it's understandable that the single-family home price would dip. More inventory means buyers have more choices. But understanding why condo prices jumped 13.1% with almost similar conditions is REALLY interesting. It could just be a matter of the top-end condos being sold more often this month, but it could lead to a market race if the trend continues.
Mortgage applications sink as interest rates rise
Finally, it seems that new mortgage applications took a hit as interest rates jumped during the month. With the good news that the U.S. and Chinese leaders may be heading towards a trade agreement, investors took their money out of bonds which led to a rise in mortgage interest rates.
"Mortgage application volume fell 11.9% compared with the previous week, according to the Mortgage Bankers Association's seasonally adjusted index. Volume was still 54% higher than a year ago because interest rates were significantly higher last year."

Weekly mortgage applications tank 12% as interest rates jump – CNBC
It's crazy to think that this rate is any kind of turnoff, considering how low it relatively is. However, I do understand every eight-of-a-percent counts when it comes to buying a home in Hawaii, so we'll see how it goes as trade talks and the Brexit deal continue.