Prices starting from $271,000 for studio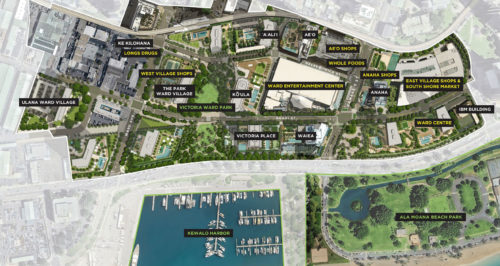 Cutting right to the chase, here are is the expected pricing for the units at Ulana Ward Village:
123 STUDIOS/1 PKG (289 SF): $271,000 – $355,400
164 1 BED/1 BATH/1 PKG (527 – 530 SF): $400,500-$556,000
287 2 BED/1 or 2 BATH/2PKG (676 – 755 SF ): $504,000- $650,000
123 3 BED/2 BATH/2 PKG (854 – 995 SF): $550,000-$717,000
Who qualifies to buy at unit at Ulana Ward Village?
100% of these units will be sold under the HCDA Reserved Housing Program, meaning all units will be sold under market pricing to those who qualify under their criteria.
Eligibility
U.S Citizen or permanent resident alien
Resident of the State of Hawaii
At least 18 years of age
Buyer (and spouse) do not have majority interest in a principal residence within the last three years
Will be an owner occupant during regulated period
Has never purchased reserved housing (exceptions available)
All household members must qualify under the area median income (AMI) limits, along with asset verification
What does reserved housing mean?
In an effort to create affordable homes for our locals, the Hawaii Community Development Authority assigns requirements for developers to mix in affordably-priced homes when they are building a project. "Reserved" housing refers to housing that falls under the terms outlined by the HCDA and varies from project to project.
Restrictions
For Ulana at Ward Village, the HCDA will require qualified buyers to be owner-occupants so no investor purchases allowed.
Buyers will also be held to a mix of 2, 5 and 10 year buyback terms, meaning if you sell the property before your buyback term expires, the HCDA will have the first-right to buy the property (in the hopes of selling to a new qualified reserved buyer).
Buyers will also have to share any equity earned with the HCDA, meaning no matter when you sell your property, the HCDA will get a portion of your profit when you sell.
Is buying a reserved unit a good idea?
The offer here is simple: qualified buyers will have the chance to live in Ward Villages, a very prime and sought-after neighborhood, for under-market prices. Of course there are trade-offs for the reduced pricing, like buyback and shared equity, so you have to decide if those tradeoffs are worth it to you.
What should I do if I'm interested in buying a reserved unit at Ulana?
Obviously, I'm going to say "contact me" if you're interested but I know you'd rather have a concrete first step to get the ball rolling. So, if you're just interested in testing the waters, I'd highly recommend you get your financial affairs in order first. Make sure you have your past two to three years of W-2s and tax returns ready, and make sure you are qualified under their eligibility requirements above.
If you'd like to take it a step further, email me at (nick@marcushawaii.com) and I can set you up with a Buyer Zoom presentation. I can also represent you and look out for your best interest if you decide to move forward with a purchase, since Ulana is allowing buyer representation. If you have already registered with the Ulana Sales Staff without a buyer's agent, just let the Sales Team Member know that you are working with me and they will loop me in. I'd highly recommend you get a buyer's representative, since the Sales Team represents the developer.