Here ye! Here ye! Bring all your unwanted personal documents to our office for SAFE and SECURE disposal! Clean out those file cabinets! Empty those manila envelopes! It's time to SHRRRRRRRRRRED!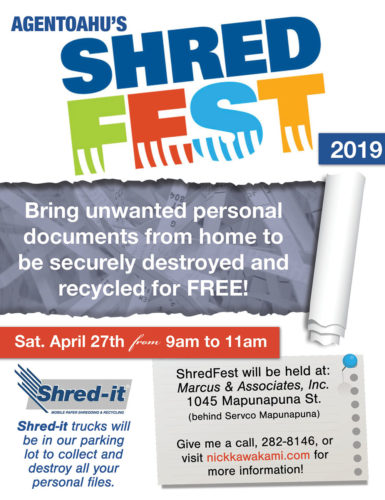 Shred-It Hawaii will be at our office (1045 Mapunapuna St., behind Servco Toyota) on Saturday, April 27, 2019 starting at 9:00 am with their document shredding truck. This is a free event, sponsored by my brokerage, so bring as much stuff to shred as you'd like!
Details
Paper only, since it will be recycled after shredding.
Staples, small paperclips, and manila folders are fine.
Plastics (i.e sheet protectors, binding combs), electronic media storage (i.e. CDs, thumb drives), and binder clips need to be REMOVED beforehand.
Boxes will NOT be accepted, so please take those back home and blue bin those bad boys!
NOTE: Since this year is sponsored by my brokerage, it will not be as intimate as last year's shred fest. I would highly recommend that you come as early as possible, and avoid any backlog that may be happening.
Hope to see you there!
Volunteers will be on hand all morning collecting your shredding items for the truck. Hope to see you all there, and thank you for supporting our event!