2015 finished strong in the local real estate market, with all indicators posting positive gains vs. 2014.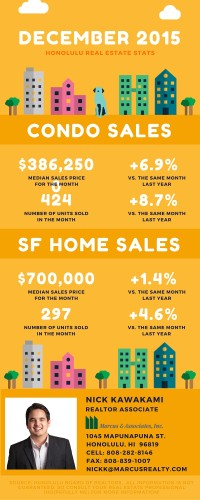 In the single-family home market, the median price appreciated 1.4% versus last year, up to $700,000. This consisted of 297 units sold on the market, with a days-on-market median of 20 days.
For the condo market, the median price was up 6.9% versus last year, at $386,250. This was made up of 424 units sold, with a days-on-market median of 24 days.
All indicator seem to point to a stronger December than normal, at a time when markets are usually slower.
"The strong sales trend which began before last summer has continued," said Kalama Kim, president of the Honolulu Board of REALTORS®. "Demand for condominiums was especially high, pushing the median price to a new record. There were 226 sales under $400,000, compared to 11 that were for more than $1 million. This shows that most of the condo sales took place at the affordable end of the spectrum. The downtown metro area saw a burst in sales, which may be the result of the number of attractive units available in those areas. We're encouraged by the jump in new listings –we saw a 13.5 percent increase in condominiums, and 5.8 percent in single-family homes. More inventory at all price points is essential to meeting the demand in the market. Looking ahead, the increase in pending sales for both single family homes and condominiums last month may lead to stronger sales figures in the next few months once those transactions close."
I will add, that while new listings did increase across-the-board versus 2014, it is still less than the number of units sold during December. With more units sold, and increasingly outpacing the number of units available, our real estate market may continue to see a decrease in (the already low) housing options. One can assume, as with any commodity, the less there is of something, the more valuable it becomes. Just another sign that points to increases in prices through 2016!
SOURCE: Honolulu Board of REALTORS® , compiled from MLS data.