Happy holidays everyone! I hope you are finding yourself happy & healthy as we enter the end of 2016 and into 2017! I can't believe this is my last post for 2016 already…these years fly by! Speaking of flying, November stats continue to show a "flying" real estate market here on the island, and it doesn't look like it's slowing down heading into December. Let's take a look at the numbers…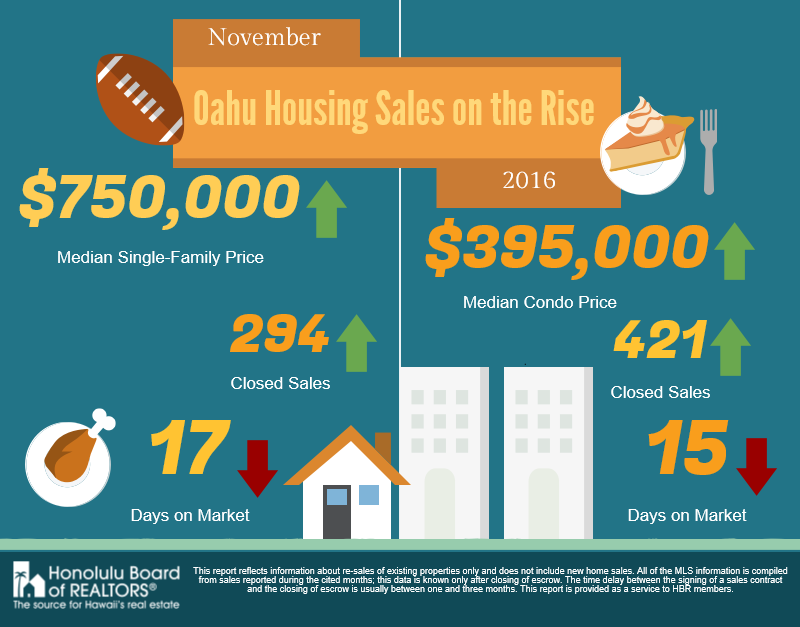 Yup, median prices are up, closed sales are up, and days on market are down. All signs continue to point to a strong Seller's market, as inventory continues to fall. Some of the biggest changes occurred in the number of closed sales with both homes and condos up 19.5% and 17.6% respectively, over last year. We continue the trend in 2016 with more properties selling than coming on the market.
Condos also showed a 13.7% jump in median price over last year, while single-family homes rose 4.8%. In dollars, that's roughly a $34,000 jump in homes and $48,000 in condos. I think the rise, especially in condos is due to more higher-priced units selling (due to the lack of inventory). The average sales price of condos sold rose 11.4%, which further enforces my feeling.
So what's in store for December and heading into 2017? Well, it's pretty obvious that low inventories continue to drive a competitive market here on O'ahu. Properties are also selling faster despite the holiday season approaching, indicating that Buyers are still aggressively shopping in the market. It doesn't seem like it's slowing down any time soon!
I'll continue to monitor the numbers, especially as President-elect Trump takes office. The Fed has already indicated a rise in bank rates next week, and possibly again through 2017 to offset inflation. Most experts are indicating a rise in mortgage rates to the mid-four percent range, so if you're on the fence to purchase something, this may be a better time than waiting!
Have a good finish to 2016, and I hope you have a great start to 2017!
ALOHA!
Nick