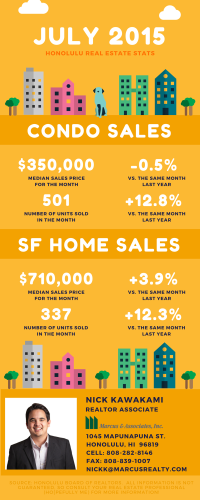 As is the standard for summer months, July saw another strong residential market. For today's analysis, I take a look at the numbers overall for the island of O'ahu and answer the age-old question of "how much does being 'in town' matter for inventory?"
First off, the month of July showed strong upticks in the number of units sold across the board. A tale of low interest rates, climbing inventory, and a hot summer showed a 12% growth in sales across the board (vs. the same time last year). Median prices climbed slightly vs. last month, with a 3.4% jump in condos and 1.4% increase in single-family homes.
Another good sign for the real estate market is a growth in inventory on O'ahu. Both single-family homes and condos showed an increase in number of units available, with about a 5% increase over June. If we compare the units sold over the last six months, we show about 3.3 months of inventory remaining in houses and 3.7 months of inventory in condos. A good number for a balanced market is 6 months.
Which brings me to today's discussion topic: "How much does being 'in town' affect the inventory on the island?
If we look at the numbers for the whole island of O'ahu, we see 3.7 months of condo inventory (meaning if nothing new came on the market ever again, we would average about 3.7 months before everything sold out). This number points to a seller's market, since inventory is slim, but it's climbing closer to the 6 month balance we look for.
Normal thoughts would assume that the idea of living in town would cause more buyers to be in the market, and lower the inventory counts. However, if we narrow down our search to just Metro O'ahu (from Salt Lake to Kapahulu), we see a jump to 4.6 months in the condo market! Why is that?
I was discussing this with our fellow agents here at Marcus & Associates, and several theories percolated. The most likely reason is the value outside of town is just too attractive for buyers. Even though traffic may be terrible in and out of town, and median prices are climbing on the west side, value is still the number one factor for most people when it comes to real estate. They are willing to sacrifice the convenience of living close to work for a bigger or better home. It is, of course, the American dream, right?!