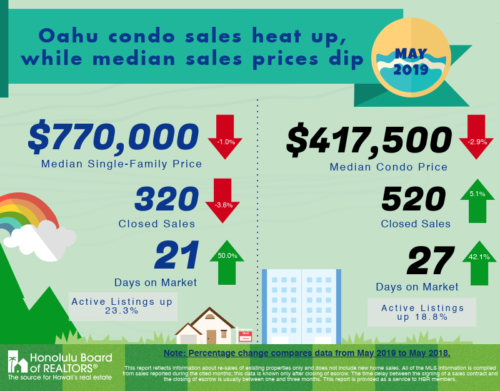 Happy June everyone, and hope you're surviving the heat! As expected, 2019 is shaping up to be an interesting year as we start to see the fruits of a pickier Buyer's market. It's definitely not time to panic, especially as median prices dip, but let's see what kind of trends we're watching as the first half of the year comes to a close.
Higher inventory expected as both active-listings and days-on-market numbers rise
To the naked eye, lower median prices and higher days on market numbers can easily be misinterpreted as a crashing market. However, having represented desperate Buyers over the last couple of years, these numbers actually present new opportunities that previous Buyers only wished of. More inventory means more options, allowing Buyers to take their time and contributing to longer marketing. Any 3-bedroom/2-bath under one-million or condos under $500,000 will still see quicker results if it's marketed correctly, but expect longer Seller timelines for those outside those criteria.
Median prices continue to stutter as upper-end of the market softens
As I've experience, the upper-end of the market has softened in 2019. To me, that is a much larger contributing factor to the lower pricing gains this year versus 2018, and doesn't really show any relief for those Buyers in the middle of the market. Expect each month to bump up and down between a -2% to +2% gain for the rest of the year and finish up overall around 2%.
Overall confidence for buyers still seems strong but watch the higher end of the market for signals
I understand that each Buyer has their own set of reasons to buy/sell, and no two situations are ever alike. However, I'm still interested in watching why the higher-end of the real estate market is softening in 2019. My theory is that higher-end investors, whether buying their first or second home, are more prone to nation-wide market trends and may be hesitant to invest in a second home while the US is under tariff threat. I'm keeping an eye on the higher-end market specifically to see if there are any forecasts that can be made for the rest of the market.