Hi Guys & Gals, I hope your holidays are kicking into gear and 2016 is finishing strong! The Kawakamis are all preparing for a busy season, and it seems that the market is following suit!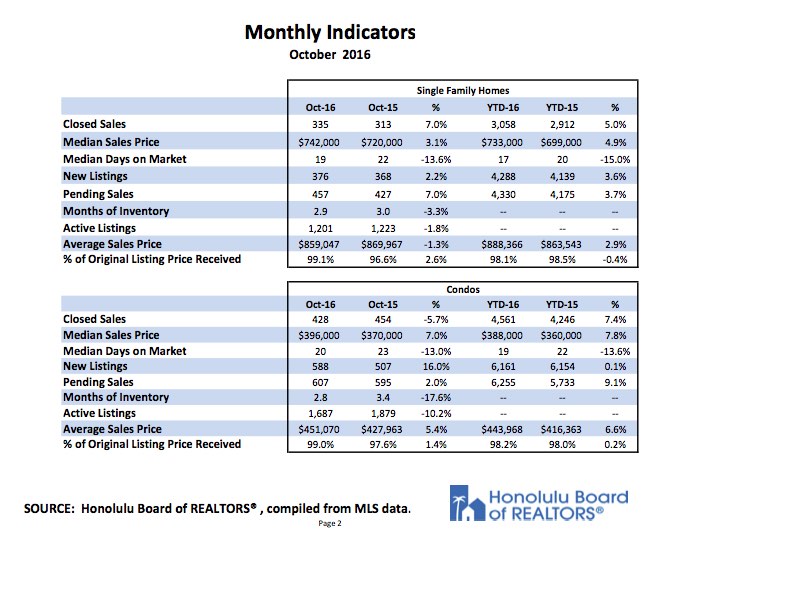 Homes, both house and condo, continue to fly off the market as inventories continue to drop and days-on-market fall. Median prices for condominiums increased by 7% over last year to $396,000, while single-family homes increased by 3.1% to $742,000. Days-on-market, the statistic that accounts for how long an available home sits on the market, dropped to 19 days for single-family homes and 20 days for condominiums. Considering these stats include the finicky multi-million dollar listings, it's a really strong indication that things fly quickly!
So what does this mean for my clients, especially as we head into the traditionally-slower winter months? If you're thinking about selling, there are still plenty of Buyers looking for a home. It's my opinion that the shortage of housing throughout the summer months will give us a good group of healthy Buyers for the foreseeable future. For my clients looking to buy, there are still a lot of great opportunities, especially with these low interest rates. If you're even considering purchasing something in the next couple of years, keep an eye on those interest rates! With a new president coming into power, and an sensitive bond market, it will be interesting to see how rates react.
Happy Thanksgiving everyone! Looking towards to the end of the year, I hope everyone has a safe holiday season!
Nick